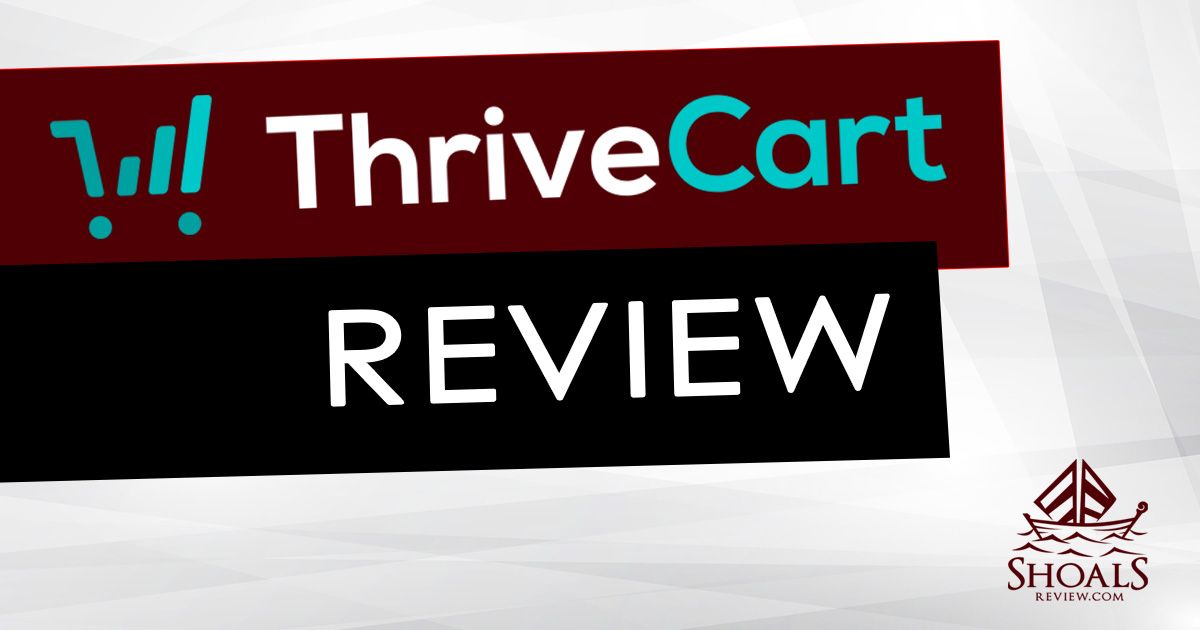 If you're wondering if Thrivecart is for your digital marketing business, then read this full review to find out if it's a fit for you.
If you're looking for the Quick Verdict:
Is It Worth It?
YES!
If you're ready to join at the lowest possible price, then click here.
Or read the rest of the review and watch the review video below.
Table of Contents
We all know the importance of having a shopping cart that will be reliable, but also one that is easy to use along with knowing it has more advanced features without spending a fortune.
In order to sell anything online, you'll need a shopping cart along with a merchant account.
Your shopping cart is what the customer sees that connects to your membership site and integrates with your merchant account that deposits the money you make from your digital marketing into your account.
What is Thrive Cart?
Thrive Cart is an advanced shopping cart software that's all web based allowing you to sell your digital and physical products.
It's by far the easiest platform we've tested.
And we've tested a lot of the years.
It was created by digital marketer and product creator, Josh Bartlett, the same team behind the popular Easy Video Player.
Josh isn't like one of those guys that promote everything under the sun nor does he launch new products every month or two.
When he does, you know there's plenty of research, testing, and reliability that's brought to the table.
back to menu ↑
Thrivecart Review
Thrivecart does not disappoint.
We were able to be setup with Thrive and selling our own products within a couple of hours and able to use the advanced features that many other over priced shopping carts charge for.
With Thrivecart, you can get them all, up and running with the step by step interface.
Here's some of the key features built into Thrivecart
1 Click Bump Offer
1 Click Upsells
Embedded Cart
A/B Testing
Two Step Cart
Video Carts
Automated and Customized Receipts
Auto Follow-up
Retargeting
Link Tracking
Product Upgrades
Customer Hub
Coupon Codes
Webhooks
Detailed Stats
Advanced Trial Options
Secure URLS
Sales Tax Calculation
Membership Integration
Sales Funnel Builder
Autoresponder Integrations
Customer Blacklist
Mobile Payments
Zapier Integrations
GDPR
Physical Products
Funnel Stats
back to menu ↑
Thrivecart vs Samcart
We tested Samcart before we made the plunge to Thrivecart and while Samcart is a quality product and it's shopping cart pages are high quality and the interface is super easy.
However, the one drawback we had was that we couldn't integrate with multiple memberships.
In our digital marketing business, we've got several membership sites on separate domains.
With Samcart, we could only integrate with a single membership site.
With Thrivecart, you can integrate with multiple memberships and the only time you have to stay with the same membership is when you're using the Upsell feature.
Thrivecart's order forms are very similar to Samcart and are able to be customized to increase your sales conversions for a fraction of the price.
In other words, you can invest in Thrivecart for a one time investment without sacrificing the quality and reliability of your shopping cart.
back to menu ↑
3rd Party Integrations Available With Thrive Cart
Thrivecart integrates with just about anything you can imagine, as you can see below…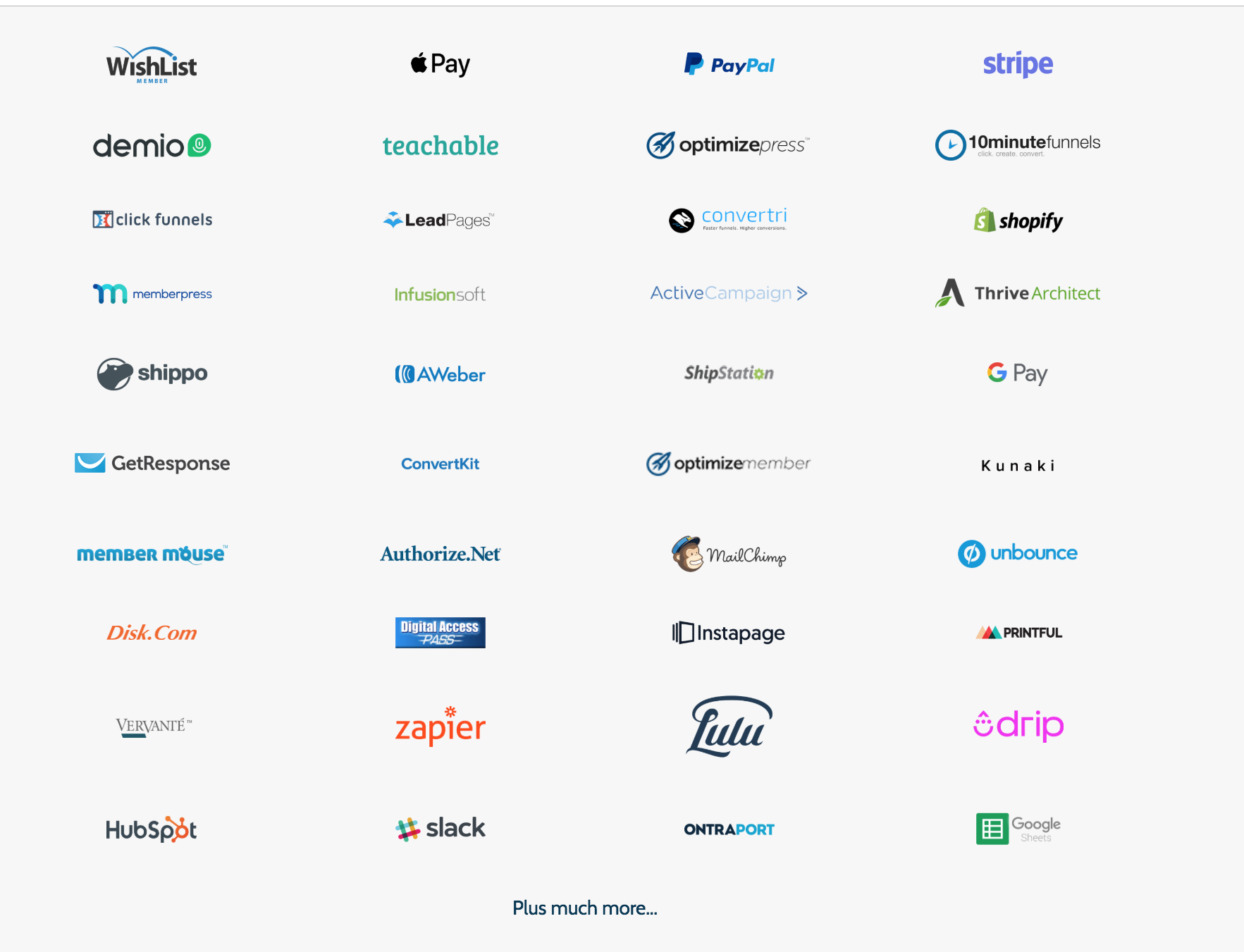 That was one of the most impressive factors about Thrivecart – it was simple to use and it worked out of the box.
In the past when using other shopping carts, we had to develop our own scripts and software to make everything work or buy another piece of software.
That's now the case with Thrivecart and why we're so excited to do this review and why you see so many other positive reviews from other users.
As cliche as it may sound, this software is truly a game changer.
For a limited time, they're offering a lifetime account with no monthly fees.
Click the button below to see if they have any available.  (If you come up to a page that is blank, that means the special lifetime offer has expired)
Click Here to See If Lifetime Accounts Are Still Available
back to menu ↑
What is the Pricing Details of Thrivecart?
There's 2 separate pricing options for Thrivecart using our special discount link.
For starters, there's the Standard Package comes with all the features we mentioned above for a one time investment of just $495.
Secondly, you have the Pro Package for an additional $195 which adds a lot more power to your shopping cart giving you even more features that include…
Affiliate Center for allowing affiliates to promote your products
JV Contracts
Custom Domain Functionality
Client Usage Rights
Automatic Sales Tax Calculation
Which is why we recommend adding the Pro Package – it adds so much more possibilities to your shopping cart.
For the pricing options, features, integrations, and ease of use, Thrivecart is our top rated shopping cart option.
Ready to Get Started?
Click Here to See If Lifetime Accounts Are Still Available
Click Here to See if They Have Any Lifetime Accounts Available
Thrivecart Review - It It Worth It?
YES! We gave Thrivecart a perfect rating because we've not seen any flaws with the software. It works like it's suppose to and is simple to use
PROS
Easy to use
Integrates easily with 3rd party apps
Adds to Membership sites without fail
Customized Order Forms
1 Click Upsells and Bump Offers
CONS
The only thing (and this is minor) is the shopping cart pages are not indexable which doesn't effect the cart's reliability.